John Edward is an American psychic medium, well known for his television show, Crossing Over with John Edward.
His career as a psychic began at the age of 15, when he was read by another medium. She told him that he would become famous for his mediumship, through reading, lectures and books. He was skeptical at the time, until she told him things about his life that nobody else knew.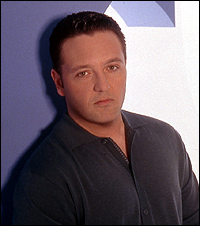 The psychologist Gary Schwartz created a series of tests for John and other mediums to complete. In his book, 'The Afterlife Experiments', he stated his belief that Edward had genuine abilities.
Bibliography
Edit
One Last Time: A Psychic Medium Speaks to Those We Have Loved and Lost (1998)
What If God Were the Sun? (2000)
Crossing Over: The Stories Behind the Stories (2001)
After Life: Answers From the Other Side (2003)
Final Beginnings: The Tunnel (2004)
Practical Praying: Using the Rosary to Enhance Your Life (2005)
References
Edit
Ad blocker interference detected!
Wikia is a free-to-use site that makes money from advertising. We have a modified experience for viewers using ad blockers

Wikia is not accessible if you've made further modifications. Remove the custom ad blocker rule(s) and the page will load as expected.