Albert Best
(2nd December 1927- 12 April 1996) was a Northern Irish
medium
, famous for being known as one of the greatest
psychics
of the
20th Century
.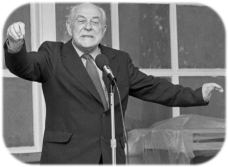 Best was raised by his grandmother, as his mother passed over when he was just an infant. He came from a devout Protestant family,
and they lived a hard and frugal life. In his later years, he would not divulge much information about his childhood, as he probably wished to forget this unhappy time.
His first experience with Spirit was at the age of 7, when he saw an apparition that later turned out to be his late Great-Grandfather.
He was invited into a development circle after a reading from a psychic in a Spiritualist Church, who told him of his Spirit Guide and lights around him.
After this, he moved to Scotland, where his sister had also moved to. It was here that he met his wife, Rose. Rose tragically died during heavy bombing in the Second World War. He was a widower in his early twenties, thus fulfilling a prediction made by his grandmother.
Work as a medium
Edit
Albert was renowned for his highly accurate readings, and is indeed quoted by many modern psychics. He was the mentor to the famous psychic barber, Gordon Smith. In addition to being a medium, he was also a Spiritual Healer.
On his deathbed, he saw his wife and children in the room with him. Witnesses, including Smith, state that there were tears of joy in his eyes, and he told visitors: 'They've come, you will have to let me go. To which Ann Docherty, another medium present, replied: 'We were never holding you Albert'. He gave a last smile, and slipped into a coma from which he never awoke. He passed into Spirit on Friday 12th April 1996.
Misc. Facts
Edit
He was the uncle of the famous Manchester United footballer George Best.
References
Edit